About Keith
Keith Scott is a Certified Athletic Trainer (ATC) through the National Athletic Trainer's Association ( www.nata.org) and also a Certified Strength and Conditioning Specialist (CSCS) through the National Strength and Conditioning Association ( www.nsca-lift.org). He has also received his certification as a Performance Enhancement Specialist (PES) through the National Academy of Sports Medicine ( www.nasm.org ).
Keith received his Master's Degree in Exercise and Sports Science with a concentration in Sports Medicine from the University of Arizona. During his 13 years in Tucson, he had the pleasure and opportunity to work with hundreds of athletes each year in the youth, high school and college levels. Keith focused on injury prevention, post surgical/injury rehabilitation, and Strength and Conditioning. He worked extensively with athletes of all levels and many different sports.Keith also holds a Bachelor's Degree in Athletic Training from the East Stroudsburg University.
With over 18 years working directly with athletes in the trenches, Keith's goals are to continue to assist athletes of all levels reach their athletic potential, help them maintain or regain their optimal physical health, and be an excellent source of knowledge for anyone looking to improve their overall fitness, health and nutritional goals.While he has mainly focused on athletes most of his career, Keith thrives in working with non-athletes as well. Corrective Therapy, Weight management, body composition and post injury rehabilitation are some of the many areas on which Keith focuses.
Keith is a regular contributor to Men's Fitness Magazine and continues to write about fitness locally.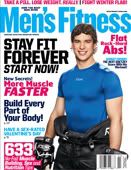 Keith currently resides in Southern New Jersey.